Ok, this is just cool.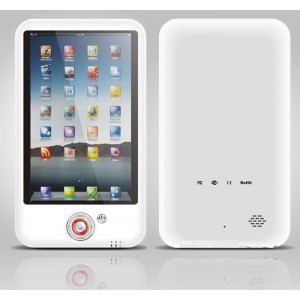 I recently bought an Eken M001 Android tablet for £90 from eBay. Mainly because I already have an Android phone, and what I really wanted was an Android device with a larger screen so I can run Aldiko and read books on it. If you haven't tried Aldiko - you should - it's a brilliant eBook reader that pulls in free and original books from various sources around the web.
The M001 does the job admirably. I was expecting something super cheap and super nasty. Something that would probably not really work properly, a pig in a poke. I took a punt in the hope it might be worth it and it really was. The build quality is actually surprisingly good - so good in fact that I wonder how in the hell they can possibly make this for a profit.
Android on a 7" screen is just amazing. I love my Android phone, but it's hard using it after the massive screen of the Eken.
I'll admit that the battery life seemed fairly poor at first, but I didn't have a chance to truly find out because I didn't stick with the original firmware for very long. I got myself straight over to SlateDroid and picked up their modified 1.7.4 firmware. They basically took the existing firmware from Eken, threw away all the crappy Chinese apps (who knows what they did) and added in the Google apps, Android Market and loads of useful bits and pieces.
Afer installing Aldiko and transferring my eBooks to an SD card, I was on my way (note, if you want to move eBooks between Aldiko installations on two different Android devices, you have to move all your books into the import directory on the target device and then use Aldiko's import tool - yes, even if you transfer the Aldiko directory with the libray database).
The device is pretty damn quick, low powered and battery life really isn't bad at all with the upgraded firmware. I just spent two and a half hours with wireless on for an hour and a half of it, reconfiguring the device and importing books. The battery drained by less than 20% in that time. I haven't done tests, but I should think you could easily get 6 hours out of it for reading eBooks with the wireless turned off.
Last night, I spent 45 minutes reading Cory Doctorow's new book at a cost of only 5% of the battery. As a cheap eBook reader (and Android device in general), this device kicks serious ass and is well worth the money.
(2012 - I now own and use a Nexus 7, it's still a great form factor with better hardware)